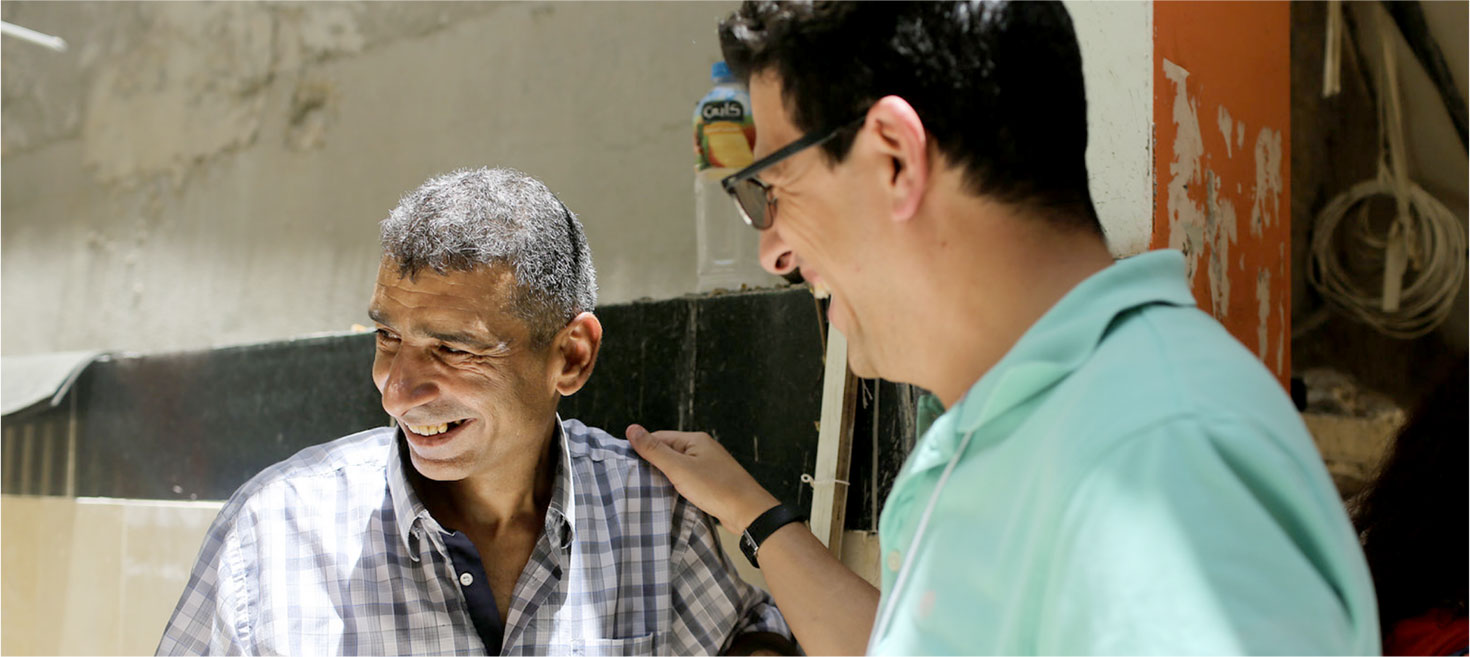 Our Mission
Encounter is an educational organization working toward informed, courageous and resilient American & Israeli Jewish communal leadership on the Israeli-Palestinian conflict.
So important to put faces and images to labels we read about. So important to humanize those often pitted as our enemies. So important to do so with Jews in a context of Ahavat Yisrael. Rabbi David Wolkenfeld Senior Rabbi, Anshe Sholom B'nai Israel
Encounter's value is being one of a kind in creating a thoughtful, safe space [and a] responsible and diverse cohort of inspiring colleagues who can support each other in engaging the conflict in our communities. It offers Jewish leaders access to the voices we want to be talking to and with and about from the other side of the messiest, most personal global conflict we are in some way all a part of. It softens our ears and hearts even while dogmatically resisting specific political solutions or pat answers. Rabbi Steven Exler Senior Rabbi, Hebrew Institute of Riverdale
Being in some of the actual places most impacted by the conflict with one's actual body, feelings and self along with a cohort of incredibly thoughtful, passionate Jews who know a lot about the conflict and care deeply about Jews, Israel and the conflict itself, allows for an encounter with living history deeper than any panel, essay, sermon, or organizing session ever could. David S. Koffman Assistant Professor of History, Israel & Golda Koschitzky Centre for Jewish Studies, York University
I didn't learn any substantial new facts or yet-unknown perspectives about the conflict. But I was pressed to confront the urgency of... and the untenability of my own blind spots. Rabbi Jeremy Kalmanofsky Rabbi, Ansche Chesed
The trip forever colors your understanding of the security of Israel… It deepens your knowledge and exposure no matter how much you've read. Angie Atkins Director of Heritage Alumni, Wexner Foundation
At Encounter, we believe Jewish leaders have a responsibility to engage seriously with a diverse set of voices to enhance our understanding of the dynamics that animate the Israeli-Palestinian conflict. Where Israel was once a unifying Jewish communal force, the subject of the conflict is now one of the most divisive and polarizing in American Jewish life. Our community needs leaders who can engage differently. Encounter believes our capacity to do so are acutely enhanced by meaningfully and directly engaging with the people with whom Israel is destined to share its future — Palestinians — as Jewish leaders, in the company of peers.
Encounter's programs fill an essential, but often missing, piece of education for Jewish leaders who care deeply about Israel, the American Jewish community and the relationship between the two. Through our Immersive Education programs, selected influencers are invited to travel to the West Bank and East Jerusalem to join a carefully curated cohort of Jewish thought leaders from across the religious and political spectra to meet with a wide range of Palestinians — from civil society and business leaders to negotiators and grassroots activists, together and to consider the implications of what we learn for American Jewish life, Israel, the Palestinians and the interdependent relationships between them. Our Continuing Education opportunities build on the relationships forged in our immersive programs, and forms the basis for access to new perspectives, new networks and new approaches to the conflict.
Founded in 2005 by Rabbis Melissa Weintraub and Miriam Margles, Encounter has so far taken more than 3,000 prominent and emerging American Jewish leaders to Bethlehem, Ramallah, East Jerusalem and Hebron to actively listen and learn from a wide range of Palestinians — and from each other.