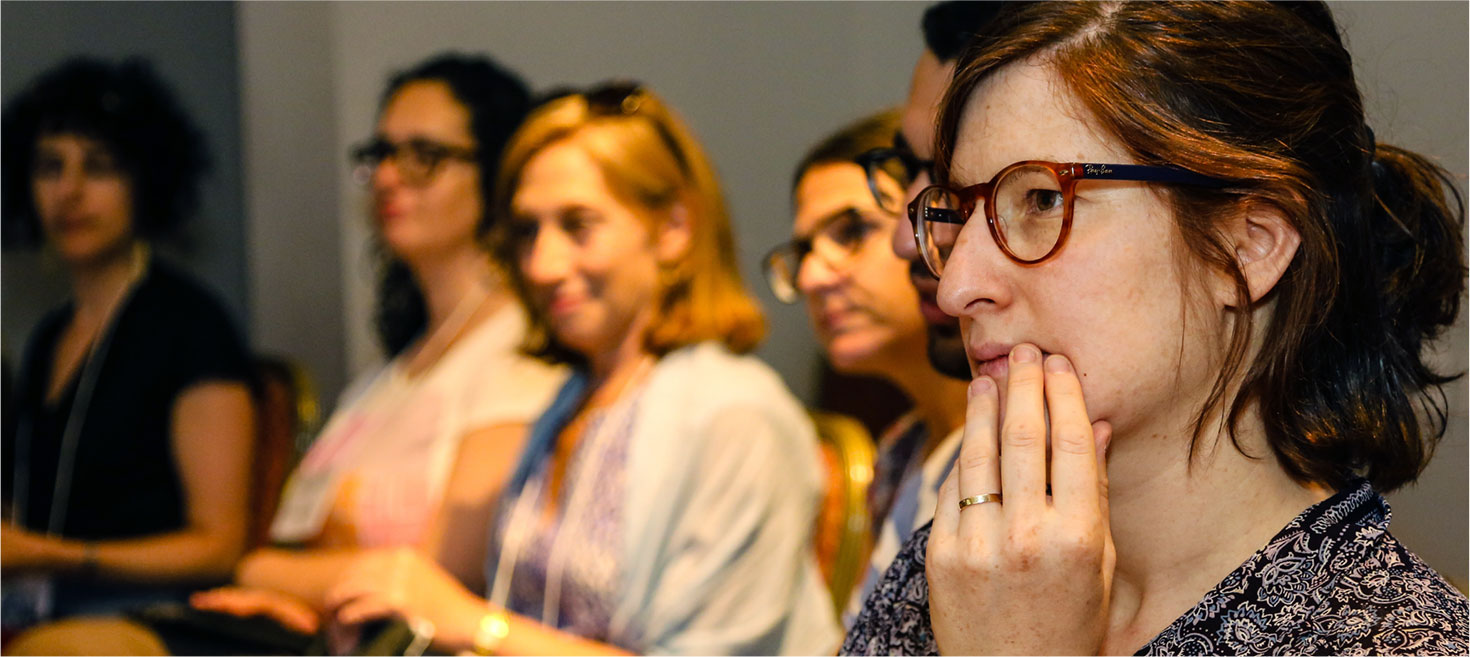 Emerging Leaders
December 31, 2018
-
January 3, 2019
Encounter invites outstanding emerging Jewish professionals and lay leaders to apply for our Emerging Leaders Intensive Seminar. The Emerging Leaders Intensive Seminar includes membership in a carefully curated cohort of peers comprised of deeply committed emerging Jewish lay and professional leaders dedicated to more nuanced, informed and constructive engagement with Israel and the Israeli-Palestinian conflict. Members of the Emerging Leaders Intensive Seminar are future professional and/or lay leaders in Jewish communal life and are committed to pursuing high-level leadership and a leadership pathway that is bridge-building and constructive in an era of high political polarization.
The seminar includes four webinars, a four-day travel program in the West Bank and East Jerusalem, participation in a cohort-specific listserv, and an opportunity to connect with members of Encounter's Executive Leadership Network during regional and affinity-based programs and a national convening in the US. During the travel portion of the program, the cohort meets and engages a diverse array of Palestinian civil society leaders, business people, negotiators, and grassroots activists. This is a unique chance to listen to and engage the perspectives of those with whom Israel will share her future.
The Emerging Leaders Intensive Seminar cohorts bring together a diverse cross-section of young Jewish leaders who care deeply about Israel, the American Jewish community, and the future of a strong relationship between the two. Our cohorts intentionally include participants from a wide spectrum of religious observance and political perspectives.
Encounter's broadest hope is that membership in this leadership network will fortify participants' capacity to lead both their current and future communities on one of the most pressing and divisive issues facing Israel and the Jewish people today.
Dates
Travel Dates:
Monday, December 31, 2018 – Thursday, January 3, 2019
The program will begin on Monday at 7:45am and end on Thursday at 7:00pm, both in West Jerusalem.
Pre- and Post-Travel Online Seminars (attendance required):
Thursday, November 29, 2018

Monday, December 17, 2018

Wednesday, January 23, 2019

Tuesday, February 12, 2019
All online seminars will take place from 12:00-1:30pm Eastern time.
Eligibility and How to Apply
To apply for Encounter's  Emerging Leaders Intensive Seminar you must be:
Enrolled as of Fall 2018 in a graduate program in rabbinical studies, Jewish education, or Jewish professional or communal leadership;
A rabbi or Jewish professional in the first 3 years of a professional position; or

An emerging lay leader with a demonstrated track record of philanthropic and lay commitment to Jewish life, including membership on the board of a synagogue, camp, or national Jewish organization.

Students currently studying in either US- or Israel-based programs are encouraged to apply.
Alumni of Encounter's former standard 2-day emerging Jewish leaders programs are eligible to apply, but are not guaranteed acceptance.  
The deadline for applying for the 2018-19 Intensive Seminar cohort has already passed. Check back for updates for the second cohort.