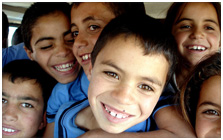 Invest in peace...
Every donation, of every amount, will help Encounter strengthen the capacity of the Jewish people to be constructive agents of change in resolving the Israeli-Palestinian conflict.
Donate
Single Donations
Recurring Donations
Thank you for your support. Encounter is a 501(c)(3) not-for-profit corpo­ra­tion. All dona­tions are tax-deductible in the United States to the fullest extent offered by law.
We accept credit card dona­tions through PayPal.
*Please note that if you are making a credit card dona­tion exceed­ing $1,000, it is advised to use a veri­fied PayPal account to avoid any 'held' trans­ac­tions or PayPal veri­fi­ca­tion processes.
Offline gifts
Please make your checks payable to "Encounter Programs, Inc" and mail them to:
Encounter
25 Broadway, Suite 1700
New York, NY 10004
In memoriam
&

in honor gifts

For online dona­tions, use the form above. On the dona­tion confir­ma­tion screen (after you put in your credit card infor­ma­tion or log into PayPal) click the link labeled "In Honor/In Memory Dedication" and include your honoree's name, a message for them, and the address or email address where we should send a note.

For offline dona­tions, simply include the same infor­ma­tion in a note with your check.