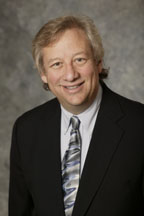 Steve Lear is the founder of NECHAMA: Jewish Response to Disaster and continues his involve­ment as a committee member. Lear has served in various lead­er­ship capac­i­ties within the Minneapolis Jewish Federation and the JCRC, and is a strong supporter of AIPAC and the Israel Project. Lear is alsothe founder of the "Challenge of Peace" program of the Jewish Community Relations Council of Minnesota and the Dakotas, a program that has orga­nized more than 1000 presen­ta­tions in churches and commu­nity groups about the Arab-Israeli conflict. By day he is a finan­cial planner and the pres­i­dent and founder of Affiance Financial, LLC in Minneapolis.
When Steve Lear met with Congressman Keith Ellison to urge his strong support of Israel, Ellison's ears perked up when Steve (a long-time advo­cate for Israel) mentioned a special trip he took to meet with Palestinians in the West Bank along­side other Jewish leaders. Steve suggested to his Congressman that his Encounter expe­ri­ence had confirmed the impor­tance of the word "and." Quoting veteran Palestinian non-violent activist and Encounter speaker Sami Awad as saying, "Israel must discon­tinue the occu­pa­tion and Palestinians must get their act together," Lear under­lined the impor­tance of Israeli and Palestinian co-responsibility for improving prospects for peace and secu­rity. Lear also cited his Encounter expe­ri­ence as teaching him the impor­tance of third parties who care about the region visiting and building rela­tion­ships with all sides of the conflict.
Having partic­i­pated in a number of Federation trips as well as Operation Solomon, Lear believes that in order to take a posi­tion, one must thor­oughly inves­ti­gate it from every side. On his seventh trip to Israel before attending the Jewish Funders Network confer­ence, Steve decided to come on an Encounter trip to Bethlehem.
On Encounter, Lear learned that, "Palestinians are also split about the course of action," and says, "Independent of their govern­ments, people are people; that's the beauty of it." He also cites "active listening" as an infor­ma­tive expe­ri­ence, "Not just listening for the sake of refuting, but really making sure that my posi­tions take into account the other side."
Since his Encounter trip, Steve has spoken about his expe­ri­ence dozens of times to churches and other commu­nity groups. Steve still corre­sponds with Palestinian leaders he met through Encounter—inquiring into their ongoing expe­ri­ence and urging them to speak out in recog­ni­tion of Israel. Steve now says, "I want nothing more than to see a Palestinian state along­side Israel."