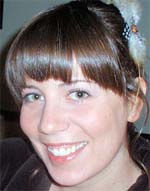 Sarah Bassin is the program manager of the Center for Muslim-Jewish Engagement at the University of Southern California. A native of Overland Park, Kansas, Sarah grad­u­ated summa cum laude with a B.A. in Religion and History from Lafayette College. Bassin held a fellow­ship focusing on Jewish/Catholic rela­tions through the American Jewish Committee and worked at Princeton University's Hillel before entering the rabbinic program at Hebrew Union College – Jewish Institute of Religion (HUC-JIR).
When Sarah Bassin arrived in Jerusalem for her first year of rabbinical school at HUC-JIR, she noticed a gap in the curriculum. There were no visits to the West Bank to explore Israel's pres­ence and its rela­tion­ship to the Palestinians there. "One goal of our rabbinic training is to build a substan­tive rela­tion­ship with Israel based on the complex­i­ties of the society, but the situ­a­tion in the West Bank was not central to that conver­sa­tion." That January, she decided to take matters into her own hands and applied for an Encounter program in Bethlehem, returning a few months later for a follow-up trip to Hebron.
Sarah was imme­di­ately struck by how foreign and distant Bethlehem felt despite it being a mere 15-minute bus ride from central Jerusalem. The trip pulled her in multiple direc­tions, "I was chal­lenged to look at the sepa­ra­tion wall in Bethlehem and seek balance – to under­stand its profound impact on the lives and liveli­hood of Palestinians even as I under­stood its role in preventing suicide attacks against Israelis. It was powerful to learn how hard it is to listen without shut­ting down, closing off and getting defensive."
Struck by the diffi­culty of holding space for inten­tional conver­sa­tion and inspired by her Encounter expe­ri­ence, Sarah wanted to contribute to long-term rela­tion­ship building that would facil­i­tate listening and learning. Since her trips to the Palestinian West Bank, Sarah has dedi­cated her rabbinic training in the U.S. to nurturing strong links between Jews and other commu­ni­ties, partic­u­larly, the American Muslim commu­nity. As Program Manager at the Center for Jewish-Muslim Engagement (CMJE) at USC, she recently mapped joint Jewish-Muslim projects across the country with the goal of better under­standing their needs, chal­lenges and successes (her finished report is avail­able here). CMJE's Muslim-Jewish Online Text Study — devel­oped in collab­o­ra­tion with Islamic and Jewish scholars — will be used by teachers at mosques and syna­gogues around the country, and will be avail­able for the Foundation for Ethnic Understanding's Third Annual Weekend of Twinning in which local mosques and syna­gogues will pair up to learn together. This text study resource is based off of CMJE's successful Muslim-Jewish text study pilot that was pioneered in 2009 which brought together Muslims and Jews of all ages and levels of reli­gious commit­ment to study Torah and Qur'an, deep­ening their knowl­edge of their own tradi­tions even as they learn about each other's. For Sarah, this inter­play captures the beauty and purpose of the bridge-building that Encounter does, and the work that Sarah has been inspired to do ever since.
Read some Divrei Torah by Sarah Bassin: