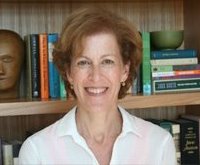 Alisa Robbins Doctoroff is the Chair of the UJA-Federation in NY and the imme­di­ate past pres­i­dent of the Abraham Joshua Heschel School in Manhattan. Doctoroff serves on the Boards of the Jewish Theological Seminary, Mechon Hadar and Moving Traditions. She is a past pres­i­dent of Congregation Or Zarua, past board member of the American Jewish Committee, and past chair of the Israel Task Force as well as the Task Force on Youth and Young Adults of the Commission on Jewish Identity and Renewal (COJIR) at the UJA Federation of New York.
Alisa Robbins Doctoroff's connec­tions to Israel run deep; her grand­fa­ther was born in Israel and she has secu­lar family who played a part in Israel's found­ing. A portion of her family lives in Israel, includ­ing Orthodox rela­tives living in Israeli settle­ments.
"Encounter came so highly recom­mended from so many people I trusted. I am inter­ested in seeing both sides—I never feel things are black and white."
One of the most impact­ful expe­ri­ences on her Encounter trip was her home-stay with a Palestinian family. She and the family's son talked late into the night, poring over maps and talk­ing about non-violent activism. "Seeing the common human­ity speaks loudly to what needs to be done… Putting food on the table, taking kids to piano lessons, and provid­ing for a better life are hard to do there—these are things that Palestinians in the West Bank strug­gle with daily and we take for granted."
As a result of her Encounter trip to Bethlehem in 2008, Doctoroff was moti­vated to join the JFNA Social Venture Fund for Jewish-Arab Equality and Shared Society and partic­i­pated for more than a year in a dialogue with Palestinian lead­ers who are part of the Palestinian Mission to the UN.
Doctoroff contin­ues to work toward resolv­ing the conflict: "I still love Israel, I'm still power­fully connected and thank­ful for my spir­i­tual roots there. Israel contin­ues to be a home. Now I am more knowl­edge­able about the divi­sions that exist, and I want to help heal those divi­sions."