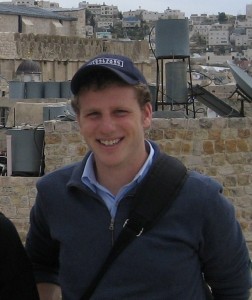 Before starting rabbinical school at the Jewish Theological Seminary in New York, Charlie Schwartz served with distinc­tion as a squad commander in the airborne battalion of the Nahal infantry brigade of the IDF after grad­u­ating from Oberlin in 2003. He served part of his time in Bethlehem in a guard tower adja­cent to the Hope Flowers School, a school he had always watched over as a poten­tial secu­rity threat.
Years later, Charlie returned for the first time to Bethlehem with Encounter and for the first time saw the inside of the school he had only seen from the distance of his old guard tower. "The Hope Flowers School is an amazing school that gears curriculum around devel­oping Palestinians as demo­c­ratic, peace loving students so they can go into society and change things. Going back to a place where I'd served, going back to a place that I'd only seen through bullet proof glass, encoun­tering people I'd only seen as a poten­tial threat was a very intense, impactful expe­ri­ence for me."
After training as an Encounter facil­i­tator, Charlie returned on several Encounter trips to Hebron and Bethlehem and continued to gain new insights and perspec­tives about areas in the Palestinian areas of the West Bank he'd only seen through a soldier's eyes. He has since both written and spoken about his Encounter expe­ri­ences in a number of venues, from Kehilat Hadar to Camp Ramah to the Wexner Foundation's newsletter. Recognized nation­ally as a leading Israel educator, Charlie has been an active partic­i­pant in Encounter's Israel Education Community of Practice, where he looks forward to devel­oping balanced educa­tional resources about key issues in the Israeli-Palestinian conflict.
Charlie encour­ages all Jews committed to Israel to partic­i­pate on Encounter trips. "I joined the Israeli army for a variety of reasons; the primary reason is Zionism. [My] love for Israel was never a super­fi­cial love; never a love that went skin deep. Part of my love for Israel means under­standing the nature of the conflict and the complex­i­ties of it and when people are hurt by it, under­standing what Israel's respon­si­bility is in causing that hurt. For me going on Encounter was an intensely Zionist experience."
Watch Charlie reflect on his expe­ri­ence on Encounter:

You need Flash player 8+ and JavaScript enabled to view this video.
Charlie Schwartz currently serves as the Jewish Life Director at LIST College.
Read some Divrei Torah by Charlie Schwartz: