This past Rosh Hodesh Av, I was at Jerusalem's Malha mall enjoying my last chicken sand­wich before the nine days. Afterward, I exited into the mall parking lot, and took a minute to look out over the hills in the back­ground, noticing some­thing I hadn't seen before. There was a funny looking hilltop half covered in trees, half razed. I didn't think much of it until a week later, when I learned the name of that place: Walaja.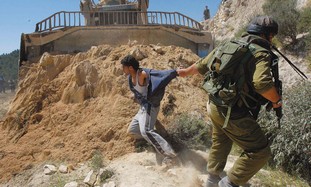 As an Orthodox Jew who loves Israel, studied in its yeshivas and defended it from those who would dele­git­imize its exis­tence on my campus, I know the real threat of hatred and violence against Jews that exists in the world. At the same time, as one who believes that every person, Jew or Arab, is made in the image of God, and that what is hateful to me I should not do to others and whose Zionist iden­tity is rooted in what we read recently on Shabbat Hazon (Isaiah 1:27), "Zion shall be redeemed with justice, her returners with right­eous­ness," what I've learned about Walaja deeply disturbs me.
Walaja, sitting on the seam between Jerusalem and the West Bank, is home to about 2,000 Palestinian villagers.
The Green Line bisects it, which leads to conflicting zoning, resi­dency confu­sion and legal prob­lems. In 1967, a great deal of Walaja's land was declared to be East Jerusalem, but its resi­dents were given West Bank IDs.
This effec­tively made hundreds of villagers illegal resi­dents in their own village and homes. Residents must go through the Interior Ministry in order to build, but the ministry has never approved a building plan for the village.
It is legally impos­sible to build, and dozens of houses, bath­rooms, and other struc­tures have been razed over the years (for which resi­dents of Walaja receive a bill), with 45 houses currently under demo­li­tion orders.
Recent construc­tion of the sepa­ra­tion barrier has made things even more painful for resi­dents. Since April, several hundred olive trees have been cut down in prepa­ra­tion for building the sepa­ra­tion barrier, some of which will be a wall, and some an elec­tri­fied fence in a 360 degree circle around the village. Entry and exit will be controlled by a single checkpoint.
In addi­tion to completely surrounding Walaja, the proposed route will wrap closely around houses on the periphery of the village, sepa­rating villagers from their land. This will cut many of them off from their sources of income as farmers, as well as burial plots of their ancestors.
Already, 150 dunams of mostly private land have been taken in prepa­ra­tion for its construc­tion. In April, this news­paper reported the story of Omar Hajajla, whose house lies just outside the barrier loop. Israeli offi­cials recently informed him that his prop­erty will be surrounded on all four sides by a fence.
SOME MIGHT look at this situ­a­tion and see the govern­ment protecting its citi­zens, with unfor­tu­nate collat­eral damage. Some see this story as part of a systemic plan to elim­i­nate one of the few remaining Arab villages between Gilo and Gush Etzion. Others might see this story as a result of all-too-familiar Israeli bureau­cratic confu­sion and red tape. Whatever polit­ical lens you look though, the results are the same: we are suffo­cating the village of Walaja.
If you believe that all Palestinians must perma­nently leave Israel and the West Bank, then perhaps Walaja's suffo­ca­tion is no big deal. But if you believe, like me, that Palestinians aren't going to just disap­pear, then this situ­a­tion should worry you. If you believe that as Jews we must hold our state to the highest possible stan­dards of compas­sion and justice, this situ­a­tion should anger you.
And if you believe that there are Israelis and Palestinians who want to lead normal lives in peace with their neigh­bors, but that possi­bility is slip­ping away, then Walaja should worry you.
Calling for change in Walaja does not under­mine the death and pain of thou­sands of Israelis who have been killed or hurt by Palestinian violence. It does not under­mine Israel's right to exist or moral standing in the world. On the contrary, Walaja as it stands now under­mines our own moral standing. The diffi­cul­ties villagers face in building homes and getting resi­dency rights support those who claim that Israel is func­tioning as an occu­pa­tion state smoth­ering Palestinian exis­tence. The isola­tion of Walaja and the confis­ca­tion of farm­lands, coupled with its prox­imity to surrounding Gilo and Har Gilo, strengthens the voices who say that the secu­rity barrier is func­tioning as a land grab.
If the village of Walaja is a secu­rity threat, why have we waited four years into its construc­tion to finish the wall's comple­tion? And what is the rela­tion­ship between Givat Yael, the proposed settle­ment that shows plans for 1,200 homes, some of them directly on top of existing homes in Walaja, and Walaja's current suffocation?
Do we have the moral courage to take a hard look at the effects of our own policies?
Don't get me wrong: Our secu­rity concerns are very real. We have very real enemies who want to destroy our state and our people. Paraphrasing the sage Hillel, "If we are not for ourselves, who will be for us?" We must also remember, though, that the lives of the villagers in Walaja are real too. "If we are only for ourselves, what are we?"
At this moment, we are engaged in a process of encir­cling a village with walls and turning it into a ghetto, denying people access to their land, liveli­hoods and bones of their ances­tors, completely disre­garding the lives of the human beings living under Israeli jurisdiction.
"If not now, when?"
The writer is a rabbinical student and activist.