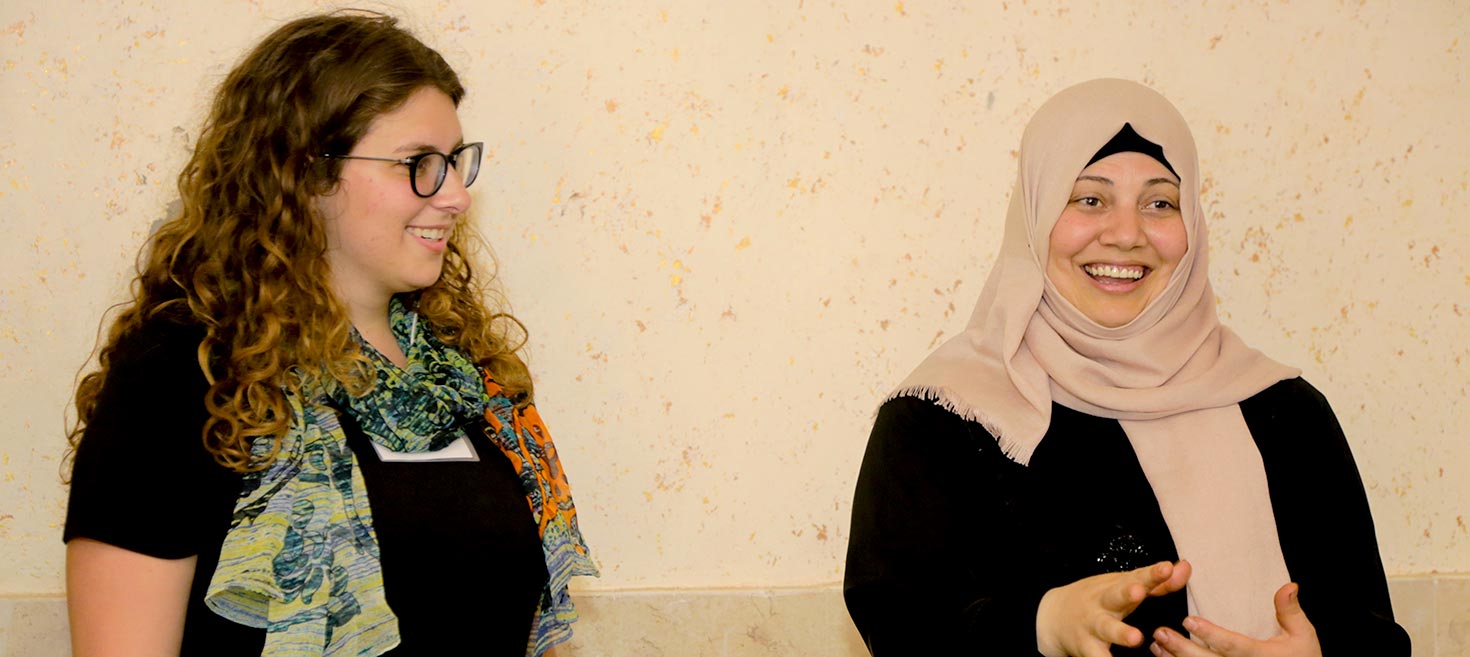 Encounter invites outstanding emerging Jewish professionals and lay leaders to apply for our Emerging Leaders Intensive Seminar. The Emerging Leaders Intensive Seminar includes membership in a carefully curated cohort of peers comprised of deeply committed emerging Jewish lay and professional leaders dedicated to more nuanced, informed and constructive engagement with Israel and the Israeli-Palestinian conflict. Members of the Emerging Leaders Intensive Seminar are future professional and/or lay leaders in Jewish communal life and are committed to pursuing high-level leadership and a leadership pathway that is bridge-building and constructive in an era of high political polarization.
The seminar includes four webinars, a four-day travel program in the West Bank and East Jerusalem, participation in a cohort-specific listserv, and an opportunity to connect with members of Encounter's Executive Leadership Network during regional and affinity-based programs and a national convening in the US. During the travel portion of the program, the cohort meets and engages a diverse array of Palestinian civil society leaders, business people, negotiators, and grassroots activists. This is a unique chance to listen to and engage the perspectives of those with whom Israel will share her future.
The Emerging Leaders Intensive Seminar cohorts bring together a diverse cross-section of young Jewish leaders who care deeply about Israel, the American Jewish community, and the future of a strong relationship between the two. Our cohorts intentionally include participants from a wide spectrum of religious observance and political perspectives.
Encounter's broadest hope is that membership in this leadership network will fortify participants' capacity to lead both their current and future communities on one of the most pressing and divisive issues facing Israel and the Jewish people today.
Dates
Travel Dates:
Monday, December 31, 2018 – Thursday, January 3, 2019
The program will begin on Monday at 7:45am and end on Thursday at 7:00pm, both in West Jerusalem.
Pre- and Post-Travel Online Seminars (attendance required):
Thursday, November 29, 2018

Monday, December 17, 2018

Wednesday, January 23, 2019

Tuesday, February 12, 2019
All online seminars will take place from 12:00-1:30pm Eastern time.
Eligibility and How to Apply
To apply for Encounter's  Emerging Leaders Intensive Seminar you must be:
Students enrolled as of Fall 2018 in graduate programs in rabbinical studies, Jewish education, or Jewish professional or communal leadership
Rabbis or other Jewish professionals in the first 3 years of a professional position
Emerging lay leaders with a demonstrated track record of philanthropic and lay commitment to Jewish life, including membership on the board of a synagogue, camp, or national Jewish organization
An expected age range of approximately 23-30 years old
Alumni of Encounter's former standard 2-day emerging Jewish leaders programs are eligible to apply, but are not guaranteed acceptance.  
The deadline for applying for the 2018-19 Intensive Seminar cohort has already passed. Check back for updates for the second cohort. 
Nominate an Emerging Leader
Past participants of Encounter's Intensive Leadership Seminars, as well as faculty and staff of relevant graduate programs, are encouraged to nominate outstanding emerging Jewish leaders to participate in an Emerging Leaders Intensive Seminar:
I appreciated the opportunity to deepen my understanding of the conflict without being told what I should think or what I should do about it. Instead, I was given a diverse community of colleagues with whom I could debrief and figure out for myself how to incorporate what I had encountered into my leadership. Miriam Heller Stern Director, School of Education, Jewish Institute of Religion, Hebrew Union College
Encounter's value is being one of a kind in creating a thoughtful, safe space [and a] responsible and diverse cohort of inspiring colleagues who can support each other in engaging the conflict in our communities. It offers Jewish leaders access to the voices we want to be talking to and with and about from the other side of the messiest, most personal global conflict we are in some way all a part of. It softens our ears and hearts even while dogmatically resisting specific political solutions or pat answers. Rabbi Steven Exler Senior Rabbi, Hebrew Institute of Riverdale
Jewish communal leaders simply must recognize the need for us (right now!) to listen and learn, honor and engage, struggle and sit with all of these issues, narratives, experiences...for our sake collectively as a Jewish people, and specifically as American Jews. Lindsey B. Mintz Executive Director, Indianapolis JCRC
I have an additional narrative in my head which I didn't have prior--that is why I knew it was necessary for me as a communal leader. Debbie Cosgrove Chair, Jewish Women's Foundation NY
I didn't learn any substantial new facts or yet-unknown perspectives about the conflict. But I was pressed to confront the urgency of... and the untenability of my own blind spots. Rabbi Jeremy Kalmanofsky Rabbi, Ansche Chesed
Day One
Building Blocks of the Conflict
The first day of travel sets the framework for the program. Participants gather in Jerusalem on the first morning to meet fellow participants, set intentions for the experience, and engage in discussion and learning on the topics of resilient listening, core values and Encounter's Principles of Practice. The group then departs for the West Bank, beginning in the Bethlehem area. On this day participants hear from nonviolent leaders about how they are building nonviolent movements and engaging unlikely allies; explore the geopolitical landscape through a tour of the Bethlehem area; and listen to personal narratives of Palestinian grass-roots changemakers. The group stays overnight in a Bethlehem area hotel.
Day Two
The Changing Landscape from 1967 through Today
Our second day begins with peer-led elective shiurim or workshops, for an opportunity to explore and benefit from the expertise and diverse perspectives within the cohort. Shiurim are followed by a presentation of the changing contours of the West Bank, including an exploration of Areas A, B and C and demographics in each area, and a visit to a Palestinian village in Area C to hear from the head of the village council. Participants then travel to a refugee camp for lunch and an opportunity to meet with a leader in the camp to learn more about the refugee experience in Palestinian society.  We conclude the day with visits, dinner, and an optional overnight stay in local Palestinian homes.
Day Three
Jerusalem: Centrality in Palestinian Culture & Society
The third day of our program focuses in on East Jerusalem and issues specific to Palestinian residents of this city, including residency rights, land allocation and construction permitting. We tour the concentric circles of Jerusalem from the Old City to outlying suburbs, examine the changing landscape of the city, and visit central geopolitical landmarks and cultural venues including a politically-oriented bookshop. Participants then break into smaller, more intimate groups to explore several East Jerusalem neighborhoods, followed by a festive dinner in a popular local cafe and travel to Ramallah for the final overnight of the program.
Day Four
Ramallah: Looking Forward - Challenges & Opportunities
On the last morning of the program, participants wake up in the political and cosmopolitan center of the West Bank. After breakfast and hearing about recent polls offering an overview of Palestinian popular opinion on issues relating to the conflict, the future of Palestinian society, and the relationship with Israel, we stroll through the bustling center of downtown Ramallah, including a chance to visit local eateries. We conclude our day by meeting with a nonviolent activist who speaks about his journey to nonviolence and his commitment to building a nonviolent movement, before returning to West Jerusalem for our closing session of the travel program.
Every morning and evening the group will meet to process experiences and reflect on the day ahead
Hechshered food is available on all programs
Time is set aside each day for davening shacharit, mincha and maariv
Each day cohort members will offer divrei torah to help ground our experience in Jewish text and tradition
Participants meet daily in small groups for facilitated intra-group conversations
Days are immersive and dense; participants should plan to be mostly offline during the travel portion of the program
How much does participation cost for this program?

How much does participation cost for this program?

Program costs, accommodations (shared rooms), and flights* for program participants are underwritten by Encounter's generous donors, who believe that participation in one of Encounter's Intensive Seminar is a vital and essential component of responsible Jewish leadership.

* Please note:

Flights will be reimbursed up to $1,000 USD ($1,300 for participants traveling from the West Coast).

Participants are responsible for their own transportation to and from airports, for arranging lodging as needed on the nights before and/or after the program, and for covering the costs of this transportation and lodging.

Accommodations on Encounter programs are based on double occupancy.

If I keep Kosher, can I participate? What kind of food will be served?

If I keep Kosher, can I participate? What kind of food will be served?

Encounter offers an option for heckshered food from Jerusalem for all meals. For those who don't opt for heckshered food, all food served is vegetarian Middle Eastern fare prepared in local Palestinian restaurants or home-cooked by women's cooperatives.

I need opportunities to daven daily. Is this possible on Encounter's programs?

I need opportunities to daven daily. Is this possible on Encounter's programs?

There are opportunities for shacharit, mincha and maariv on every Encounter program. All prayer sessions are optional. We arrange prayer so that as many people who want to pray can, and allowing for a variety of different prayer practices. If you have more questions, please be in touch with us.

Will my participation be made public?

Will my participation be made public?

We understand it is complicated for some to have their participation publicized. Encounter will never advertise your participation — on our website, on social media or in communication — without your explicit permission. We include an "opt-out" of all photographs option, and all participants are required to abide by a social contract respecting other participants' preferences on this issue. Encounter reserves the right to share your participation with our Board and program funders.

What are Encounter's security procedures and precautions?

What are Encounter's security procedures and precautions?

Encounter's highest priority is the safety and well-being of participants and staff. In addition to taking the US State Department Travel Advisories into consideration, we contract with a well reputed international security firm working with a mixed Israeli and Palestinian team who monitor our itinerary before and during the program. Our programs include advance monitoring services (vehicles with agents who travel ahead of the group to monitor the next location), and all groups are accompanied by a security agent. In Palestinian areas, we travel at all times with known Palestinian locals marking our group as a friendly presence, and we act as would any other group of international tourists. Each group travels with a trained medic. For further precaution, Encounter staff are equipped with a second "West Bank" Palestinian cell phone, since reception can sometimes be an issue over the Green line.

Adjustments and Discretion: To ensure the safety and well-being of our staff and participants, we reserve the right to change our itinerary at any point in time without advance notice. We do not circulate itineraries in advance of the program, nor do we share our itineraries electronically for security reasons. Participants are asked not to broadcast on social media where we are at any given time until after we have left that location.

If I hold Israeli Citizenship, can I participate in Encounter's programs in the West Bank?

If I hold Israeli Citizenship, can I participate in Encounter's programs in the West Bank?

Israeli law prohibits Israeli citi­zens from trav­eling to Area A of the West Bank (Palestinian popu­la­tion centers under the civil and security control of the Palestinian Authority). For this reason, we are unable to include Israeli participants on most of our programs. For our Intensive Leadership Seminars, we have designated programs for which we include dual-citizens. In these circumstances Encounter applies for a permit for your participation, although we cannot guarantee you will receive it. We offer occa­sional programs in Areas B and C of the West Bank, where Israelis are free to travel. Check the schedule of upcoming programs or contact us if you have dual citizenship and would like to learn more about participating.

*Please note: We are able to include dual citizens in our programs only if we receive applications from and accept a minimum of 4 qualified dual citizen candidates, constituting a meaningfully sized group.

Where will the group travel? With whom will we meet?

Where will the group travel? With whom will we meet?

We will meet with Palestinians living in the West Bank and East Jerusalem who represent a range of perspectives on key issues. They are Muslims and Christians, women and men, civil society leaders and activists, business leaders and political negotiators. They represent varied political positions and advance different strategies on key issues. The itinerary shifts depending on security situations and speaker availability. Programs typically travel to Bethlehem and surrounding areas, East Jerusalem or Ramallah. See a sample itinerary above. Encounter reserves the right to change the itinerary at any time  without prior notice based on security considerations.

Why does Encounter strongly encourage homestays?

Why does Encounter strongly encourage homestays?

Encounter offers participants the opportunity for home hospitality for one night of the program. Repeatedly, we hear from participants that the homestay is the most impactful and enjoyable component of their experience. The host families are located in the Bethlehem area and have worked with Encounter for years — most since our founding a decade ago. The staff know the families personally, and know them to be warm, welcoming, and eager to connect with Jewish participants. This is a unique opportunity for more informal conversations and a chance to experience a little local Palestinian culture.

Am I required to have health insurance? Will my health insurance cover me while I'm in the West Bank?

Am I required to have health insurance? Will my health insurance cover me while I'm in the West Bank?

Encounter purchases addi­tional health and trav­elers insur­ance for all that covers all participants in Palestinian areas of the West Bank, locations that are frequently not covered by regular tourist coverage to Israel. 

I understand Encounter is investing in me. What am I committing to in return? What is expected of me?

I understand Encounter is investing in me. What am I committing to in return? What is expected of me?

Members of Encounter's Intensive Leadership Seminar commit to participating in all aspects of the program including pre-travel cohort webinars, preparatory reading, four chevruta sessions, completing a pre-travel survey and participation in all aspects of the travel component. Participants agree not to leave the group at any point during the four day delegation to the region, or to have visitors join the group unless you have received written permission from the trip leaders.

Participants should plan to be mostly offline during the travel component of the program as the days are long and demanding. All members of the Leadership Intensive Seminar commit to upholding group member's confidentiality and not writing, speaking or posting pictures about other group members without explicit permission. Post-travel all participants will join two cohort webinars, and complete online program surveys immediately after the program and six months later.

Our hope is that if we do our jobs well, you will have a meaningful and powerful experience and (1) be moved to help us recruit future program participants, (2) speak, write and teach about the experience privately and publicly, (3) consider paying it forward and making a gift to Encounter to subsidize other Jewish leaders' participation and (4) consider how you will actively continue to shape your leadership on this issue.

What is the expected age of an applicant?

What is the expected age of an applicant?

Applicants should be currently enrolled in/pursuing a graduate degree to work in Jewish communal life or in the early stages of their career in this field. Applicants are expected to be between the ages of 23-30, although target applicants outside of this age range will also be considered.