Join us for the evening on January 31, 2013 in Brooklyn, New York. Come to meet and hear from Sami Awad, Executive Director of the Holy Land Trust.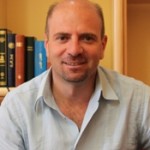 Growing up in Bethlehem in the 1980's, Sami was involved with the Palestinian Center for the Study of Nonviolence in Jerusalem and coor­di­nated work­shops in conflict reso­lu­tion, democ­racy, and nonvi­o­lence. He went to the United States to pursue an under­grad­u­ate degree at the University of Kansas. He earned a M.A. in International Relations at the American University, special­iz­ing in Peace and Conflict Resolution. During his time in the US, Sami kept very close links with his native home­land and always intended to return to Bethlehem to play his part in build­ing and devel­op­ing the Palestinian commu­nity. Sami has played a key role in a number of projects since his return to Bethlehem. He worked with the Palestinian Bible Society to estab­lish a Biblical museum in Bethlehem, and he was one of the founders and part­ners of Radio Bethlehem 2000, one of the first radio stations to be launched in the West Bank. Sami also founded Holy Land Trust, a not-for-profit orga­ni­za­tion seek­ing to empower the commu­nity through mobi­liz­ing its strengths and resources to create real oppor­tu­ni­ties for the future. He contin­ues to serve as its Executive Director, and has spoken to count­less Encounter groups visit­ing Bethlehem.
A regu­lar speaker on Encounter's tours of Palestinian commu­ni­ties in the West Bank, Sami offers an impor­tant perspec­tive and serves as inspi­ra­tion as a leader in the non-violence move­ment. Come to listen and ask ques­tions to learn about what is happen­ing on the ground, and seed ideas and hope for what can be done to move forward construc­tively.
RSVP required.
For more infor­ma­tion or to RSVP, email heidi@​encounterprograms.​org.

Encounter neither contests nor endorses the views presented by speak­ers in this series.